English | Spanish
Wisconsin Harvest of the Month is a statewide campaign that encourages kids and families to eat more fruits and vegetables. Each month schools showcase one seasonal, Wisconsin-grown fruit or vegetable. Students taste, explore and learn about the importance of eating fruits and vegetables.
Why Harvest of the Month?
Research shows the many benefits of the Harvest of the Month campaign:
encourages kids to try new fruits and vegetables
increases the amount of fruits and vegetables students eat
reduces food waste
grows school meal participation
supports Wisconsin farmers and local economy
How it works
We provide an assortment of promotional and educational materials for a comprehensive campaign. Participation is flexible so you can meet the needs of your school. The campaign provides three ways to engage:
School cafeteria promotions – each month, schools serve the featured fruit or vegetable in at least one meal or snack, lead a taste test, and display posters.
Expanded education about health eating – students engage in educational activities about the featured fruit or vegetable.
Resources to encourage healthy eating at home – schools and partners share information about Harvest of the Month and healthy eating with families through school newsletters, social media posts and postcards.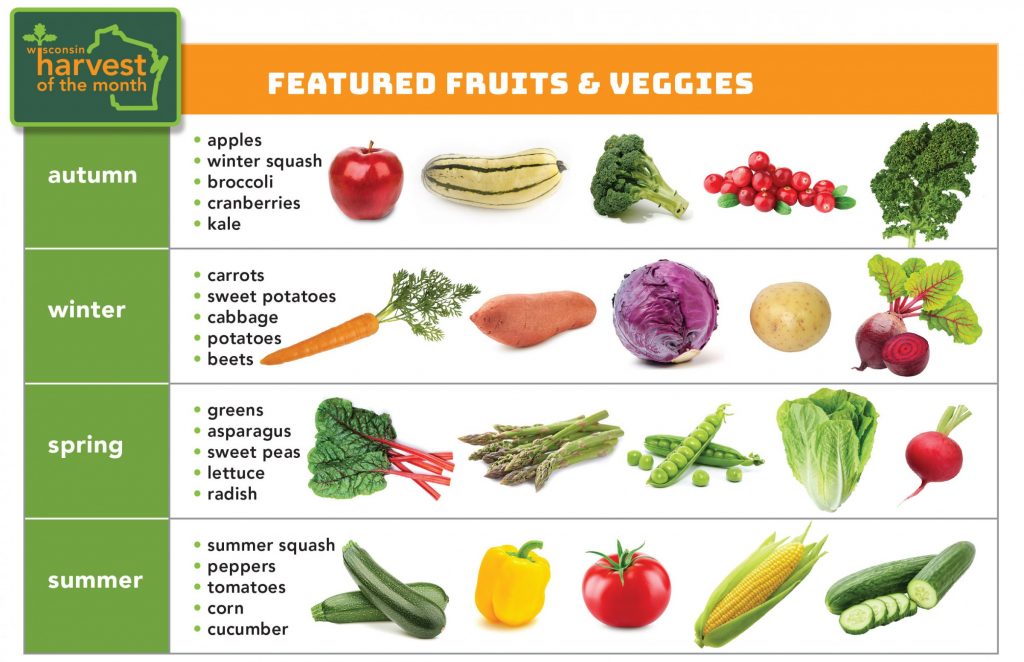 Monthly promotional materials
By completing a brief survey you will gain access to everything you need to implement Harvest of the Month:
Posters (large, medium and small; English and Spanish)
Menu images
Activity guides
Digital graphics for Facebook and school newsletters (English and Spanish)
Postcards for families (English and Spanish)
When you complete the survey, you will receive an email with a link to the materials and a password to access them. Save this email for access to these and all future materials.
Already have your password?
Download our Outreach Flyer for sharing with schools >
Beyond the basics
The Harvest of the Month campaign provides ways to collaborate and support related efforts:
Nutrition Education – integrate the program into nutrition education taught by teachers, FoodWIse Educators, or Farm-to-School AmeriCorps members.
Wellness Policy – support nutrition promotion and education goals included in the school wellness policy.
Farm to School and Farm to ECE – launch or grow Farm to School or Farm to ECE activities.
School Gardens – maximize learning by connecting Harvest of the Month to the school garden. Planting and harvesting information is included in the Activity Guides.