Celebrate healthy eating and farm to institution by purchasing and crunching into locally and regionally grown apples in October!
10th Anniversary!
Thursday, October 12th, 2023
Everyone is Welcome! K-12 schools, early care and education sites, hospitals, colleges and universities, farms, state and local agencies, non-profit organizations, local businesses, groups, and even households can register to Crunch! Anyone who wants to show support for local farmers and food can join!
Follow us on Facebook to get updates and see crunch photos from around Wisconsin!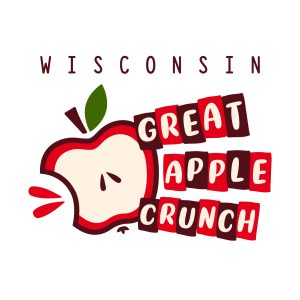 Wisconsin Apple Crunch Resources
Let's All Crunch! 2021 Apple Crunch Webinar Series
🍎 A is for Apples: Introducing Local Foods Through Apple Crunch & Celebrating Seasonality
Farm to ECE Practitioners | https://go.wisc.edu/42v826
Are you interested in bringing nutritious, local foods to your early care site or preschool? Learn about the Great Apple Crunch and the Celebrating Seasonality farm to ECE recipe guide. These tools support quality care and farm to ECE foods in your nutrition and education programs. Learn how to connect with local food and farmers, introduce new recipes to your site, and include more local food education into the classroom, kitchen, and garden. This webinar was hosted by UW-Madison Center for Integrated Agricultural Systems and Rooted.
🍎 The Apple Crunch Supports Apple Producers
Farmers | https://go.wisc.edu/65fxue
Apple growers – learn about the Great Apple Crunch and how to sell your apples to a growing network of local institutions, including K21 schools. Purchasing local foods is a growing priority for campuses across the state, and many institutions seek apples as their first local purchase. Learn how Crunch activities can promote and market your farm or orchard too! Distributors, learn how you can market the Crunch to promote local apple sales to your institutional accounts and buyers.
🍎 Celebrate #F2SMonth with the Great Apple Crunch
School Staff and Partner Organizations | https://go.wisc.edu/v80k09
Learn how to plan and host your Great Apple Crunch in the cafeteria or classroom. This webinar features guest speakers, best practices, and success stories from the field. We cover how to find local apples, promote your crunch, incorporate farm to school education, and generate excitement around local food and agriculture at your school or organization – and how to amplify your Crunch through social media.